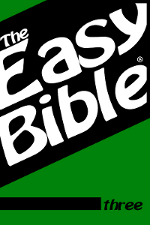 6″ x 9″ — 112 pages, paperback $10.00, Kindle $2.99
Preview (pdf)
Why do good people suffer? Why is God sometimes silent? Does God care about my dreams? In this volume of The Easy Bible®, you will explore the two most ancient books of the Bible, and read about the wedding night scam, the man who wrestled with God, the long-distance bride, the slave prisoner who became ruler of a nation, the wife who was mistakenly added to the king's harem, the man who bargained with God, and, most importantly, the God who showed up.
These aren't pretty little stories. Instead, we cover rough territory: rape, murder, war and disaster. But if you've ever suffered and wondered why, if you've ever felt like nobody understands, if you've ever ventured out into uncharted territory, this book is for you. See how God rebuilds shattered lives and makes fractured families whole.
The Easy Bible® is your resource for exploring and sharing the Christian faith. Designed for first-time Bible readers, appropriate for seasoned pros-you'll find this book to be easy to read, but never watered down, and filled with encouragement and guidance that works in real life.
In Volumes One and Two of The Easy Bible® we looked at the life of Jesus ending with His resurrection from the dead and His instructions to His followers. We also looked briefly at creation and the beginning of human history. In Volume Three we pick up the story and trace our roots back to the very beginning.
Explore the most trusted path of spiritual growth known to humanity: the Bible. Inside you'll find the Bible available in a whole new way, in bite-sized pieces, freshly paraphrased, with notes of explanation, making this the perfect read for someone with no previous Bible experience. We've added words of encouragement and created conversation starting questions for you and a friend to explore together. Explore … enjoy … share … grow. Experience God on a whole new level.
"For many of my friends, the Bible is a big, scary book. Not any more. The Easy Bible® makes it … easy. That's why I plan to use it as part of our disciple-making strategy as we start a new church. There's nothing quite like it. … And Author Dwight Clough is the real deal. He loves Jesus, and he lives the Bible." Israel Haas, Church Planter, Pastor, PhD Student in Hebrew Studies
"I like The Easy Bible® because it gives me a daily reading plan. Without it I didn't know where to begin when I picked up the Bible. Plus, it is laid out so I can discuss the readings with my small group." Neil Mathweg, Real Estate Agent / Entrepreneur
"The Easy Bible® is by far the best single source to unlock the tenets of Christianity in daily readings! … perfect for those who are new to Biblical Concepts, it is also a great way for even the seasoned believer to clarify and solidify their understanding of Christianity!" Mike Halsted, State Government Program Manager
"This is an ideal guide for a Mentor and Mentee … a small group, and a family because of its appeal to all ages. Written in simple and straightforward language, this is an excellent guide to share our thoughts about God." Pat
"I like The Easy Bible®, because I can casually hand it to someone in a 'Bible Friendly' setting, and just say 'check it out', and they will open it and be interested: A conversation has begun." Jason Gillis, Student, Religious Studies
---
Easy Bible® is a registered trademark of ET Labs. The Easy Bible® is published under a special agreement with ET Labs, and the content contained herein is not necessarily endorsed by ET Labs. ET Labs publishes a series of applications. Please visit etdevlabs.com and biblepub.com for more information.