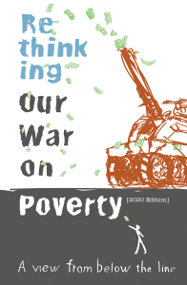 If you join me, we will win…
I'm asking you to harness your imagination to this possibility:
Maybe what you've been told about poverty is wrong. Maybe if we all made a simple paradigm shift, we could win this war on poverty.
Inside this book is an invitation to a different way of thinking. This book is being offered to you because I believe you have the power to make a difference.
Welcome to a different perspective on poverty, one from below the poverty line, one filled with hope and optimism and effervescent with possibilities. Step away from the political spectrum, step away from the bonds of your own narrative, and explore a menu of solutions to poverty that release and engage the untapped power of the American people.
Find out more at WeWillEndPoverty.com
New, updated 2020 version!
Black & white interior, 5″x8″, 114 pages
Paperback: $9.99
Kindle e-book $2.99
Preview the 2020 edition of this book here. Note: If you cannot afford to purchase the book, feel free to download and/or print this preview copy. (What you cannot legally do is sell the copies you download or print.) I would appreciate it, however, if you would ask your local library to order a copy.