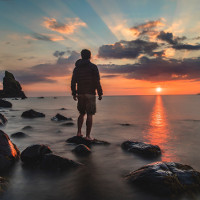 Here I am! I stand at the door and knock… Revelation 3:20
When was the last time you had a life-changing encounter with God?
Today? A week ago? A year ago? 30 years? Never?
Let me define my terms. By "life-changing" I don't mean that you were hyped. TV commercials can get us hyped. Slick motivational speakers can get us hyped. Shallow evangelists who know how to work a crowd can get us hyped. Neither do I mean that you ended up sinlessly perfect. But I do mean that you walked away a different person.
This is not another spiritual chore. It is not: I go to church, I read my Bible, I pray, I share my faith, and, oh, no, now I have to do something else too…
But rather: When was the last time Jesus met with you and you walked away changed?
Dwight
PS. What is spiritual maturity? I pondered over this for a long time, and then I asked the Lord. The answer I got was surprisingly simple, yet it changes everything. That's our Inner Wealth topic on 7/27/2019.
Filed under: Uncategorized