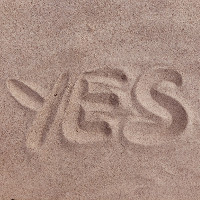 If anyone hears My voice and opens the door, I will come in… Revelation 3:20
We human beings really have only one power: to say "yes" or "no" to God. If we are righteous, why are we righteous? Not because we did righteous things, but because we said "yes" to God. If we are unrighteous, look around inside. Somewhere we closed the door in God's face. Somewhere we said "no."
We like to use Revelation 3:20 as a salvation verse. Open the door of your heart and let Jesus in. But it is also a Christian life verse. Once Jesus comes in the front door, He starts knocking at the other doors inside our hearts. There are many closets in our hearts that Jesus wants to clean out. Either we say "yes" or we say "no."
It's very important to understand that we don't clean out the closet first and then open the door. Many sad and discouraged people are trying to do this. We can't do this. We don't have the power to do this. All we have the power to do is to say "yes" or "no" to God.
This is bad news for the self righteous, but it is wonderful news for the desperate among us who realize that we have no hope unless God comes in and cleans us up. And that is exactly what He will do, one "yes" at a time.
Dwight
PS. What is spiritual maturity? I pondered over this for a long time, and then I asked the Lord. The answer I got was surprisingly simple, yet it changes everything. That's our Inner Wealth topic on 7/27/2019.
Filed under: Uncategorized