Free gift: How to hear the voice of God, and information on a coaching/mentoring service that might be of interest to you
---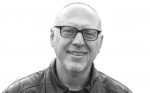 Hi! I'm Dwight.
I want to help you experience life on a whole new level. I think you'll find what I have to offer is always unique, carefully thought out, simply explained, and compassionately conveyed.
---
My prayer for you
Jesus talks about the importance of agreeing with someone else in prayer. I was praying about that, and I felt that God wanted me to agree with you in prayer about a few things.
Actually, here below, I've written out a prayer for you, and
I've already agreed to each one of these requests for you.
So … if you agree, then that locks in the promise of Jesus:
"Again, truly I tell you that if two of you on earth agree about anything they ask for, it will be done for them by my Father in heaven." (Matthew 18:19 NIV)
Here goes:
Father in heaven
I make room for You, for Your Son Jesus, and for Your Holy Spirit.
Have the place of honor in my life.
Please reveal Your goodness to me.
Point my life heavenward, and guide my steps.
Break through into my world that I might know You and know Your love for me.
Grant me the courage to be real with you.
Heal my hurts.
Renew my mind.
Transform my life.
Let the details of my life reveal who You really are.
Let every life I touch be touched by the presence of God.
Save me from bitterness and all other sins.
Grant me the inner wealth that is my birthright as a child of God.
In Jesus' name,
Amen.
---
Must we be enemies?
If the video doesn't show on your screen, here's the link…
End the Divide
If you don't think good people should hate each other, my latest project, End the Divide might interest you. I'm starting a movement focused on helping followers of Christ lead the way in ending toxic polarization. If that sounds good, I recommend you start by reading the book. More below.
BTW, Heal Our World is now End the Divide, and the Heal Our World podcast morphed into the End the Divide book.
---
As Christians we know we are commanded to forgive others. But how? How do you do it? I struggled with this for years until I found a simple technique that removes all the barriers and makes forgiving others super easy.
---
When Democrats and Republicans end up in heaven, do they still hate each other? How is it that former slave owners and former civil rights leaders can live side by side in heaven and not only be okay with each other, but be best buddies? What do they know that we don't know? What do they have that we don't have?
Starting with questions like these, this book explores how people of faith can lead the way to end the toxic polarization in our culture. Unlike many other books in this category, End the Divide is not aimed at changing how you vote or forcing you to abandon your beliefs.
End the Divide is aimed at people of faith. When Jesus prayed for the believers who are on this earth today, He had one and only one request: that we might be one, united, friends—that there would be no divide.
Why was this so important? Why was this God's #1 priority?
Do we need to abandon our values in order to be one big happy family? No. But we do need to understand how friendship works, what it means to take the high road, and how to think outside the box.
End the Divide takes an honest look at the toxins in our culture that keep us apart. It explains why we need to fix ourselves before we fix our world. It offers a step-by-step prescription for creating an "I belong, you belong" world where each person has a place at the table and a voice in the conversation. It invites readers to join a movement with the goal of transforming our culture.
If you're looking for an echo chamber that takes pot shots at "the other side," this isn't the book for you. But if you're looking for breakthrough thinking on this topic from a faith-based perspective, this could be an important read. Purchase options here…
---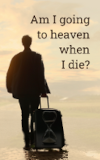 Am I going to heaven when I die?
Pray a prayer. Check a box. And the Pearly Gates will open, right?
Or will they?
That's what I thought until I read, reread, and reread the words of Jesus:
Sell everything; give the money to the poor. Come to Me for living water. Visit me in prison. Neither do I condemn you; go and sin no more. If you do not forgive, you will not be forgiven. Count the cost. You must be born again. Today you will be with Me in paradise. Lose your life for My sake. Overcome.
How do you decode that? Am I going to heaven when I die?
It's time to lift the veil and untangle the mystery of what it really takes to board the train to heaven. Purchase on Amazon here…
---
Those of us who have had a profound experience with God know what it's like to awaken in a new world where everything has changed. The old dreary depression is lifted, the gnawing anxiety is gone, the people who used to aggravate us suddenly don't bother us any more. Jesus is here; and though our circumstances may not have changed one bit, we find ourselves surveying the old bullies of our lives with a confident smile.
For anyone who has ever struggled with a marriage that isn't working, for those who feel the lingering pain of abuse, for those who struggle with a life that's out of control, The Gift of Transformation is a road map to hope. Purchase on Amazon here…
---
I decided not to hate you
If the video doesn't show up on your screen, here's the link…
If the above video speaks to you, then the next two books might be for you…
Welcome to a different perspective on poverty, one from below the poverty line, one filled with hope and optimism and effervescent with possibilities. Step away from the political spectrum, step away from the bonds of your own narrative, and explore a menu of solutions to poverty that release and engage the untapped power of the American people. Purchase on Amazon here…
A shorter, though snarkier, book on the same subject: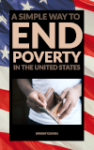 A Simple Way to End Poverty in the United States
This really does feel like a David and Goliath kind of thing—not solving poverty—that's fairly easy—rather convincing you that poverty can be solved. That's the real struggle. Convincing you to open this book and entertain an outside-the-box way of thinking.
We get stuck, don't we? We get stuck in our own paradigms, and it is so hard to pull away and look at things from another perspective.
But we must. Someone had to be the first to believe you could get around without a horse, that human-built wings would carry you into the sky, that you could cram all the libraries of the world into a box small enough to hold in your hand.
Someone had to believe.
Join me in believing. A few simple changes in how we see will open up a whole different world.
Or, if you just want to be angry, join me for the first chapter. I promise I'll make you feel better. Purchase on Amazon here…
---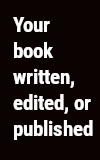 Your book written, edited and/or published
Each year I take on a limited number of clients who are looking to get their message out there in the form of a book. If you're dreaming of becoming an author, I have a 45-minute free educational video that will help you (1) write a better book, (2) actually get your book published, and (3) avoid many of the scams that prey on new authors. No sign up needed; it's all right here…
I also offer a short course on writing and publishing your book here…
---
What is the "good news" in the gospel?

Is "try harder" the only prescription we have for the struggling?

If we're hurting, does Jesus care? If He does, how does that help?

Why doesn't the Bible line up with my theology?
For decades I wrestled with questions like these. Finally, after many years, I feel like I have answers—answers that satisfy me, and answers that seem to bring a great deal of comfort, clarity, and encouragement to others.
"I felt invited into a conversation. It tackled deep, fundamental issues and questions in an easy-to-understand way without making light of their importance." ~ Holly, Missionary to Mexico. Find this book on Amazon here…
Spanish version available here…
---
More info on End the Divide
If the video doesn't show up on your screen, here's the link…
---
Find inner strength and unexplainable peace. Overcome a painful past. Melt away anger and anxiety. Forgive others easily. Become addiction resistant and stress free. Walk away from Try Hard Christianity into a beautiful friendship with Jesus. If you're interested in the nuts and bolts of how personal transformation works in the real world, this is the book for you.
Features:
100+ learning aids including diagrams, illustrations, tables, sidebars, memes
125+ discussion questions, 30 journal prompts
90 comprehension questions with answer keyglossary, index & detailed table of contents
10 decision maps
130+ photos
290 pages
---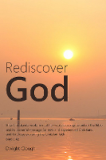 Rediscover God and other books to help you understand the Bible
This is a book for Bible newbies although experienced Christians tell me it helps make familiar passages come alive. In 60 daily entries, you are introduced to the story of Jesus and other Bible basics in easy to understand language with thoughtful and helpful explanations. Available on Amazon here…
Rediscover God covers the same material as The Easy Bible® Volume One and Volume Two. You might also be interested in Volume Three and Volume Four.
Ready to tackle the entire Bible? Try Bible Made Easy available here…
---
Save the king.
Rescue the princess.
Find true love.
What could possibly go wrong?
When Straight Arrow sets out to save the life of the president of the United States, everything goes terribly wrong…and magically right. And when Dove Fogico touches anyone in the Kingdom of Arken, they hear the voice of God. She's the only one who knows who Straight Arrow really is, and she isn't saying. But Dove has disappeared, along with the king's daughter. All eyes turn to Straight Arrow. Is he behind the plot? Is he an assassin in disguise?
---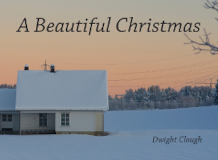 A Beautiful Christmas
A beautiful book, available here…
And here's an excerpt:
Good News of Great Joy
If the video doesn't show up on your screen, here's the link…
---
What I believe about you
You are no accident.
You have been in God's heart and in His plan
from eternity past.
God is at work in you.
All the broken places in our lives are simply opportunities
for God to show His great love and transforming power.
God never fails.
He is smarter than our enemy,
stronger than our addictions.
God likes you.
He likes hanging out with you.
You are deeply treasured.
No one can take your place in God's heart.
God will satisfy all your desires with good things
The signature of God is on you;
you are His creation,
and God doesn't make junk.
You were created to live forever,
designed to make a difference,
engineered for excellence.
God is with you.
You have what it takes.
You are here for a purpose.
You carry Jesus into our broken world.
You are the answer to someone's prayer.
You are the friend someone longs for.
You are the difference your world needs.
When you took the hand of Jesus,
you entered into life.
You became indestructible,
undefeatable,
incorruptible.
All the powers of hell
might line up to take you down,
but Jesus pushes those bullies up against the lockers,
and you walk by unharmed.
You are a royal son, a royal daughter of God.
And thank you for being my friend.
Dwight Clough
(Note: This is an excerpt from my book, What I Believe About You, available on Amazon.)
---
More of Dwight's books
The Tyrannosaurus Who Wanted to Be a Vegetarian
---
Inner Wealth Archive
Dozens of videos, access to courses, loads of my best material all for under $100 here…
---
Free resources
When Christian leaders disappoint
Are you embarrassed when people ask you to pray aloud?
5 things every survivor of sexual abuse needs to know
Something to hang onto when your world is falling apart
And, finally, my sausage fried rice recipe 🙂
---
Coming soon…
I want to help people who don't embrace the Christian faith understand what it's like to be a believer. So I'm working on a book explaining how I experience the Christian faith. If this book is of interest to you, ping me here, and I'll let you know when it comes out.
I'm also working on a novel. More about that when we get closer to a release date.
---
Social media
My YouTube channel
My Twitter handle is @DwightClough
UPDATE! I'm back on Facebook. I would love for you to join my End the Divide group. (My old account was hacked in 2021, and my mom was in the hospital at the time, and I wasn't able to recover it.)
I'm also active on our End the Divide Mighty Networks platform, which is a paid community for people who are interested in the End the Divide movement after reading the book.
Enjoy!
Dwight
PS. Not getting my weekly emails? Here's the sign up: