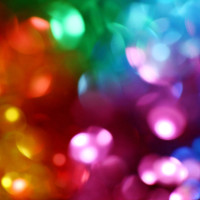 To the angel of the church in Laodicea write: "These are the words of the Amen, the faithful and true witness, the ruler of God's creation. I know your deeds, that you are neither cold nor hot. I wish you were either one or the other! So, because you are lukewarm—neither hot nor cold—I am about to spit you out of my mouth. You say, 'I am rich; I have acquired wealth, and do not need a thing.' But you do not realize that you are wretched, pitiful, poor, blind and naked. I counsel you to buy from Me gold refined in the fire, so you can become rich; and white clothes to wear, so you can cover your shameful nakedness; and salve to put on your eyes so you can see. Those whom I love I rebuke and discipline. So be earnest, and repent. Here I am! I stand at the door and knock. If anyone hears my voice and opens the door, I will come in and eat with him, and he with me. To him who overcomes, I will give the right to sit with Me on My throne, just as I overcame and sat down with My Father on His throne. He who has an ear, let him hear what the Spirit says to the churches."—Revelation 3:14-22
The Laodicean church is a pleasant place. The greeters smile. Beautiful music fills the plush sanctuary. Orthodox and inspiring preaching can be heard every Sunday. Everything is in place, running smoothly under the direction of a competent church board and a pastor with vision. The ushers almost sing as they work their way through the crowd collecting cash for the Kingdom. The Laodicean church is Bible-based, conservative, liberal, Catholic, Protestant, evangelical, charismatic, and purpose-driven.
So perfectly disguised is this church that they themselves have no inkling as to their identity.
Few can match their accomplishments. They've sent missionaries around the globe. They've fed the poor. They've marched to save whales, and they've marched to save babies. Theologically strong, they churn out intellectual giants who dazzle us with their knowledge. They set goals and achieve them. Their parking lots are filled with shiny new cars. They have it made.
It takes a lot of courage to look at these verses. But if we are willing to take the risk, I believe we will find that this is one of the most powerful and relevant passages in all of scripture. I want to spend the next few days looking at it and discovering the wonderful hope that Jesus offers when we finally become willing to get real with ourselves and real with Him.
Dwight
PS. Can we trust our feelings? What role does emotion play in our faith? Does God care how we feel? What are our feelings good for? We'll be addressing these questions and more on 8/3/2019 in Inner Wealth.
Filed under: Uncategorized