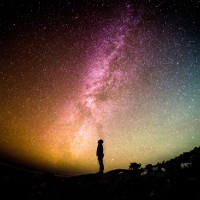 To the angel of the church in Laodicea write: "These are the words of the Amen, the faithful and true witness, the ruler of God's creation. I know your deeds, that you are neither cold nor hot. I wish you were either one or the other! So, because you are lukewarm—neither hot nor cold—I am about to spit you out of my mouth. You say, 'I am rich; I have acquired wealth, and do not need a thing.' But you do not realize that you are wretched, pitiful, poor, blind and naked. I counsel you to buy from Me gold refined in the fire, so you can become rich; and white clothes to wear, so you can cover your shameful nakedness; and salve to put on your eyes so you can see. Those whom I love I rebuke and discipline. So be earnest, and repent. Here I am! I stand at the door and knock. If anyone hears my voice and opens the door, I will come in and eat with him, and he with me. To him who overcomes, I will give the right to sit with Me on My throne, just as I overcame and sat down with My Father on His throne. He who has an ear, let him hear what the Spirit says to the churches."—Revelation 3:14-22
Jesus has a plan for the Laodicean church. The Alpha and Omega looks beyond our arrogance, our blindness, our independence and sees far into the future. He envisions what can be, what is still possible, what He deeply desires for us.
What does Jesus mean when He says that He will give us the right to sit with Him on His throne?
Let's be real. If you had a choice between having lots of power and not having any, what would you choose? If you had a choice between having plenty of influence and having none, what would you choose?
I'll tell you what Jesus chooses for us. He chooses power. He chooses influence. God's plan is for us to rule with Him. God's plan is for us to be in that place of wonder—in the very throne room of God—seeing the face of Christ—being in on the counsel of God—filled with wisdom—offering ideas and suggestions that will flavor all of eternity. Jesus wants us with Him. He doesn't just want to play catch with us in the back yard once a week. He wants us where He is. He wants us in on everything that is important to Him. He wants to give us the place of greatest honor.
I don't know where you are in your Christian life. You might think you're pretty hot stuff. Or you might think you have failed miserably. But I can tell you this: God has an eternal plan for you. Take the most generous, the most wonderful future you can imagine. Multiply it by a thousand. And it doesn't even come close.
This is the place we need to start. If we don't know how good it is, we'll never pay the price to get it.
Dwight
PS. Can we trust our feelings? What role does emotion play in our faith? Does God care how we feel? What are our feelings good for? We'll be addressing these questions and more on 8/3/2019 in Inner Wealth.
Filed under: Uncategorized