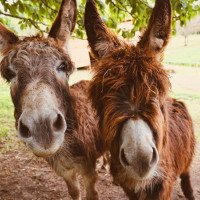 Now the donkeys belonging to Saul's father Kish were lost… 1 Samuel 9:3
One night I went with a group of Christian guys to get some self defense training. Our instructor was shorter than any of us, older than all of us, and weighed less than we did. But he had no trouble at all throwing the biggest of us around anywhere and anytime he wanted. It was amazing to me to see how a little tiny bit of pressure—in the right place—would send a grown man flying.
A new chapter of history is opening. Israel is about to get her first king. Like the self-defense instructor, God introduces this development with finesse. He takes a little, seemingly inconsequential incident—lost donkeys—and uses it to turn around not only a man's life, but the political landscape of an entire nation, and—ultimately—the history of the world.
This is one of the exciting things about life as a child of God. We never know when God is going to take some trifling matter in our life and use it to change our world.
Dwight
PS. Our Inner Wealth topic for 9/28/2019 will be overcoming anger.
Filed under: Uncategorized