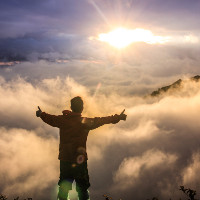 Now the dwelling of God is with men… Revelation 21:3
We think of heaven as a destination—you die and go to heaven. We think of it as a place or a location—streets of gold, the celestial city. We think of it as relief from all our troubles—no more sickness, no more grief, sadness, suffering or pain.
All of these things are true, of course. But at its essence heaven is the presence of God. This is one reason why the unrighteous are not permitted in heaven; they wouldn't like it. They could not bear the presence of God.
This is why heaven is eagerly desired, not just by us, but also by God. He wants to be with us. He wants His place in our lives to grow and expand until every part of our heart is touched by the presence of God.
This is why we don't hide from God. Whatever we hide from God cannot be filled with His Spirit, His presence.
Is there a heaven on earth? Yes, there is. Whatever part of our lives contains the presence of God; that is heaven on earth.
Years ago I asked the Lord what heaven will be like. Here's what I sensed He said in reply: "I'll be there and you'll be there. That's what really matters." And that is what matters in this life—the presence of God, filling us up, and spilling over on everyone around us.
Dwight
PS. Dealing with difficult people. That will be our Inner Wealth topic on Saturday, 8/31/2019.
Filed under: Uncategorized