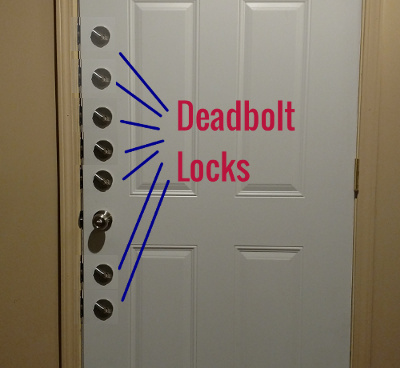 Years ago my friend Steve Freitag shared this illustration with me: Here we are on one side of the door. Jesus is on the other side. And all we need to do is open the door.
What's preventing us from opening that door?
All these deadbolt locks. The only thing that stands between us and our next life-changing encounter with Jesus is our set of deadbolt locks.
Jesus is not going to knock down the door. We gotta open it. And, to open it, we gotta unlock those locks.
What are those locks? Well, hey, they're a little different for each person and each encounter with Jesus, but here are a couple big ones:
1. I can't be honest with God. He's already disgusted with me. There's no way I'm going to tell Him what's really going on. I'm better off hiding. I never would have said this, but secretly, deep down, I believed this for many years. Like Peter said, "Go away from me, Lord; I'm a sinful man."
2. I can't be honest with myself. Whatever is going on inside me, whatever I've done, whatever has been done to me is too [scary, dirty, shameful, fill-in-the-blank], and I just can't go there. And, hey, I get that. Sometimes it's not safe to dig up the nasty stuff in our lives without the right kind of help. But, at the same time, it's squarely in the middle of our mess that Jesus shows up and everything changes.
Anyway, my prayer is that you find those locks, open them, and let Jesus in.
More on this at DwightClough.com
Dwight
Filed under: Uncategorized