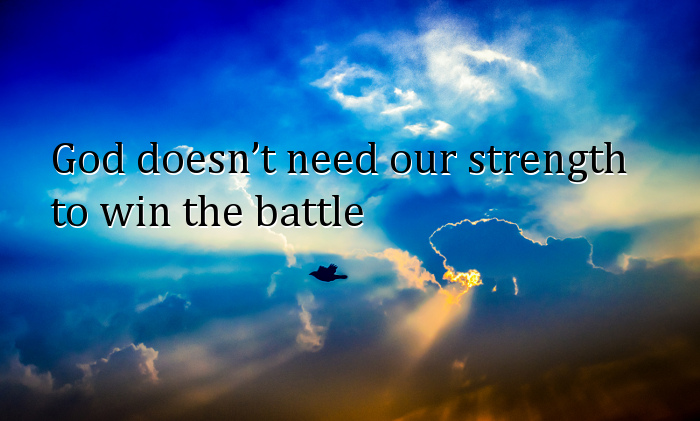 In the Bible we read, "When the devil had finished all this tempting, he left Him until an opportune time." (Luke 4:13)
Exactly what is an "opportune time"?
Well, first of all, forget about the devil fighting fair. It isn't going to happen. He doesn't shake hands like a gentleman and wait until you're ready. He looks for the weakest moment, the time when you're defenses are down.
My strongest temptations come in the middle of the night when I'm trying to get back to sleep. I'm tired, and the last thing I feel like doing is fight a spiritual battle. But that's often when the battle comes—when I'm weak.
Did Jesus have weak moments?
Let's look at this occasion. Jesus had fasted for forty days and nights. Now he was ravenously hungry—His body was tearing apart internal organs to find the nutrients to survive. Food was not a luxury for Him in this moment—it was a necessity.
Along comes the devil. "So, you're hungry, huh?"
(Does the devil care whether Jesus is hungry? Of course not.)
"Try my solution. Turn these stones into bread."
What's the temptation? To get Jesus to act independently of the will of God. To separate Him from His Father. To get Him to doubt the loving-kindness of the Father. To get Him to doubt His own identity as the Son of God.
Jesus got hungry, tired, angry just as we do.
If Jesus, in His humanity, had weak moments like we do, then the devil ran into something he did not expect: God's strength is made perfect in weakness; God doesn't need our strength to win the battle.
Remember, you are designed to make a difference!
Dwight
PS. Are you receiving my daily email?
Photo credit: Adapted from an image by Sunny_mjx, Flickr, Creative Commons License
Filed under: Uncategorized