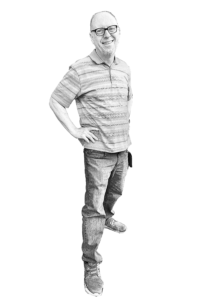 Hi, I'm a prophet…
Imagine saying that at a party, or putting that on your business card. It doesn't really work does it?
Prophets have never been well understood, so I thought I would share this post to talk a little bit about what it's like for me to be a prophet.
I'm a prophet. No, that doesn't mean that I predict the future (although, honestly, it's not that hard to see), and no, I don't typically get a "word" for you (I'd much rather you get your own "words" from God).
Rather it means God has given me a message for my world.
I think of myself as a prophet of kindness. The message God has given me is not one of doom and gloom, terror and woe, but rather one of hope and healing if we will avail ourselves of it.
God has given me a message in the form of big ideas that aren't that difficult to understand, but they force us to think differently, and they pull us out of our comfort zones.
For example, do you know that you have a wall in your mind? I would say most people have a primitive understanding of this, but 99% don't know what to do with it—and, as a result, they cut themselves off from much of the profound transformation God offers.
Or do you know that it's relatively easy to end poverty in the United States? (And, no, I'm not smoking something.) It really is. But doing so forces us to step away from our deeply entrenched political beliefs (Left or Right) and think outside the box.
The best thing about being a prophet is I get to hang out with God. I feel like God has become a really good friend—my best friend. I don't know; maybe that sounds strange, but that's what I like.
The worst thing? Knowing you have a message that could transform lives and transform nations, and seeing that message ignored, misunderstood, run over on the highway of cultural noise.
I'm a prophet. That's the role God has given me in this life. What about you? What role has God given you? What do you like about it? And what do you find challenging about it?
Let me know…
Dwight
Filed under: Uncategorized