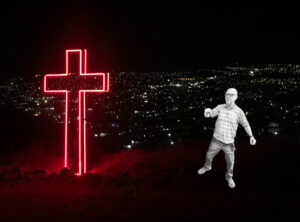 Another reason Jesus died on the cross*
*and how it affects us during election season
Jesus died for our sins.
End of story, right?
I'm not so sure. I think there are several reasons Jesus died on the cross, and here's an important one that's often overlooked:
He took the place of sin.
Let me put that a different way.
What should have been on that cross?
My sin. Your sin. Our sin. Humanity's sin. We should be actively crucifying everything within us that misses the mark, that offends God, that hurts others.
What have we done instead?
We crucified God.
God the Son.
God in the flesh.
Vulnerable God.
Hurtable God.
We found an opportunity to do what we as a species secretly wanted to do all along: Kill God. Rid our universe of Him. And we did it.
(But God is not so easily killed, is He?)
Ever since then, the cross has been a line of demarcation.
What will we crucify?
Will we crucify sin? Will we crucify all that has gone wrong—first inside ourselves and then inside our world?
Or will we crucify God? Will we crucify the people God loves? Will we hate? Will we smear? Will we slander? Will we look for their every fault?
This is one reason why I stopped watching the news years ago. The whole purpose of the news media has degenerated into teaching us to hate.
Do you know how you can tell if they succeeded?
We will become fully convinced in our own minds that the people we hate are the true haters. We will be blind to our own paranoia and contempt, and fully focused on theirs—real or imaginary.
This is why I go into mourning during the election cycle—because so much of politics has degenerated into character assassination and stirring up hatred.
And let's not pretend it doesn't happen on all sides.
Who or what will we crucify?
Our sin?
Or God in the form of the people He loves?
Dwight
(Cross image by Diana Vargas on Unsplash)
Filed under: Uncategorized