The key to moving forward is resolving the past
View the video on YouTube here
Why you can't forget the past
In order to forgive, we must look at the past. The offense we are trying to forgive may have occurred an hour ago or 50 years ago; either way, it's in the past, and memory is a critical part of the forgiving process. Dr. Ed Smith writes, "Memory answers the question: How did I come to believe what I believe (feel)?" (Smith p. 110)
You can try to forget the past, but the past doesn't forget you. Unresolved issues from the past will continue to haunt you. They will create stress for you. They will bully you. From their position in the basement of your soul, they will continue to color all of your present and future experiences until you deal with them.
Some Christians cite the Apostle Paul's words, "forgetting what is behind" (Philippians 3:13) as an argument that we should not revisit the past. However, if you read the entire chapter you can see that Paul isn't saying any such thing. Instead, he reviewed his self righteous accomplishments before he came to Christ and decided they were garbage. So he wasn't going to brag about his past accomplishments. Instead, he was going to keep his eye on the prize: Jesus Christ.
Our purpose in going back to the past is not to wallow in it, but rather to resolve it so we can move on unburdened by it. Jesus empowers us to disconnect the pain from the past so that it no longer troubles us in the present nor clouds our future.
Road rage and unresolved anger
What causes road rage and other anger problems? In many cases, anger in the present is tapping into a whole reservoir of unresolved anger from the past. Example: While Joe is normally a nice guy, someone just cut him off in traffic. All of a sudden he is screaming, yelling obscenities and threats at the other driver. What happened? The other driver's actions constituted a minor offense, but Joe's brain connected that minor offense with dozens of other places where he is still carrying anger from the past. This outburst of anger was an expression of a lifetime of unresolved anger. Once Joe is able to resolve the anger from the past, he will be able to put offenses in the present into perspective and respond much more appropriately.
Here's what that means: Sometimes, in order to forgive an offense from the recent past, we'll need to deal with other offenses—perhaps from different people—in the more distant past. We need to clean out all of the unresolved anger that is coloring how we see our world.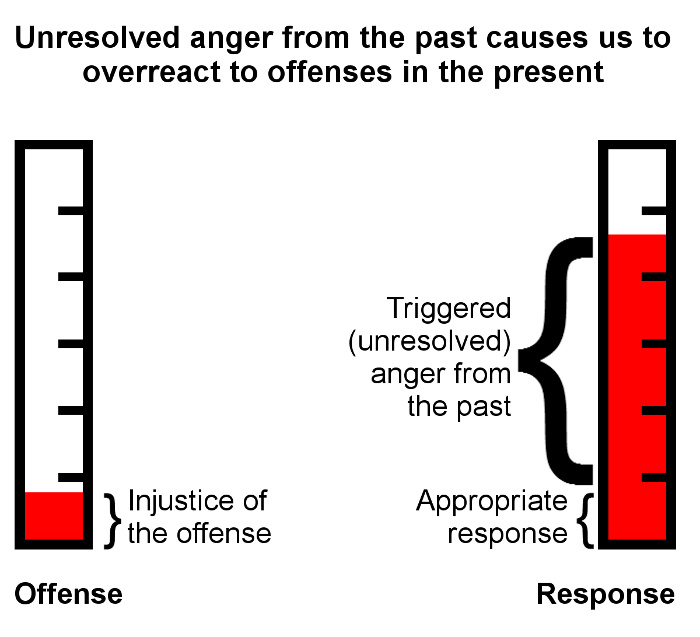 What if our memory isn't accurate?
Memory is notoriously unreliable. Two people will remember the same event very differently. Our memories of past offenses are most likely going to be skewed.
Is that a problem?
No, it isn't. We don't need to validate the memory. We don't need to prove that it really happened. What we do need to do is identify our takeaway from the memory. What are we believing? What painful lies did we acquire from that event? Once those lies are removed, then forgiving becomes the automatic next step.
Questions:
Why is it important to look at what happened in the past?
What does the Apostle Paul mean when he says "forgetting those things that are behind"? (Philippians 3:13)
What is our purpose for going back to past events?
What causes road rage and fits of anger?
Do we need to validate the accuracy of memories in order to forgive?
NEXT: The trade-up approach to forgiving others (Lesson #9)
This step-by-step approach puts together everything we've learned, and leverages the supernatural power of God to change our hearts.
Explore these related resources…
Did you know that forgiving others is only one part of resolving the past, and only a small piece of the work of transformation that Jesus wants to do in your life. For a much fuller understanding of how Christian transformation works and how God can neutralize all the damaging messages from the past, I recommend my course, Spiritual Self Defense…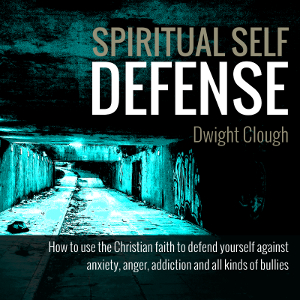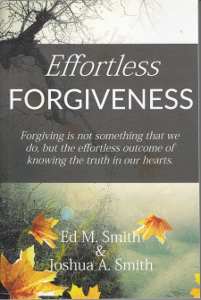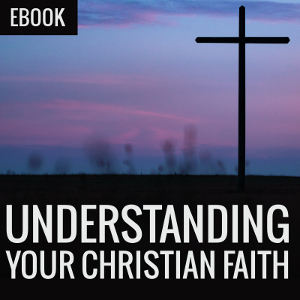 Questions? Want to talk? Connect at our Facebook group…
Scriptures for further study
Forgiving others commanded or referenced
(From the Lord's prayer) And forgive us our debts, as we also have forgiven our debtors. 14 For if you forgive other people when they sin against you, your heavenly Father will also forgive you. 15 But if you do not forgive others their sins, your Father will not forgive your sins. (Matthew 6:12, 14-15 NIV)
Forgive us our sins, for we also forgive everyone who sins against us.[a] [a] Greek everyone who is indebted to us (Luke 11:4a NIV)
Jesus said, "Contain quarrels. If a Christian does something to harm you, go to him privately and resolve the problem. He may listen, apologize and make it right. If that happens, you have a friend. But if he won't listen, take along one or two others because these witnesses can bring clarity to the situation. If he still refuses to listen, then bring it up to the church. If he won't listen to the church, then he's made himself like an outsider, and you'll need to treat him as such.
"Understand the truth: Your connection with Me gives you incredible power. When your purposes are aligned with Mine, you can open and close doors in the unseen spiritual world just as you do in your every day life. When two or three of you pray, desiring My name to be advanced, I'm standing right beside you."
Peter then asked, "Master, how many times should I forgive a brother who hurts me? Seven times?"
Jesus answered, "No, instead seventy times seven.
"It's like this: A king wanted to settle debts with people who owed him money. One of his subjects owed him well over $400 million (375 tons of silver or even gold). He couldn't pay; so the king proposed liquidating the man's estate and then selling him, his wife and his children as slaves. The debtor fell to the ground pleading, 'Give me time. Give me time. I'll find a way to pay it all back.' The king had compassion on this man and decided to cancel the debt. Then the man who had his debt canceled found someone who owed him money, about four months wages. He grabbed him by the throat and said, 'Where's my money?' The man fell to the ground and begged him, 'Give me time. Please give me time and I'll pay it all.' But he refused. Instead, he had him thrown into debtors' prison to be kept until the debt was paid. When the other subjects witnessed this, they went and told the king everything. The king had the man summoned. He said, 'You evil man! I canceled your debt when you pleaded with me. Why didn't you have compassion on the man who owed you money?' Then the king handed the man over to be tortured in prison until every bit of his debt was paid. This is how My Father in heaven will treat you if you don't forgive your fellow Christian from your heart." Matthew 18:15-35 DCR
And when you stand praying, if you hold anything against anyone, forgive them, so that your Father in heaven may forgive you your sins. (Mark 11:25 NIV)
Do not judge, and you will not be judged. Do not condemn, and you will not be condemned. Forgive, and you will be forgiven. (Luke 6:37 NIV)
Be kind and compassionate to one another, forgiving each other, just as in Christ God forgave you. (Ephesians 4:32 NIV)
Now instead, you ought to forgive and comfort him, so that he will not be overwhelmed by excessive sorrow. 8 I urge you, therefore, to reaffirm your love for him. 9 Another reason I wrote you was to see if you would stand the test and be obedient in everything. 10 Anyone you forgive, I also forgive. And what I have forgiven—if there was anything to forgive—I have forgiven in the sight of Christ for your sake, 2 Corinthians 2:7-10 NIV (see 1 Corinthians 5:1-13 for context)
Even if they sin against you seven times in a day and seven times come back to you saying 'I repent,' you must forgive them. (Luke 17:4 NIV)
Love prospers when a fault is forgiven, but dwelling on it separates close friends. Proverbs 17:9 NLT
If you forgive anyone's sins, their sins are forgiven; if you do not forgive them, they are not forgiven. (John 20:23 NIV)
Jesus' example
Jesus healed one of the men who arrests Him
And one of them struck the servant of the high priest, cutting off his right ear. 51 But Jesus answered, "No more of this!" And he touched the man's ear and healed him. (Luke 22:50-51 NIV) (See also Matthew 26:51-54, Mark 14:47, John 18:10-11)
Jesus forgave from the cross
Jesus said, "Father, forgive them, for they do not know what they are doing."[a] And they divided up his clothes by casting lots. [a] Some early manuscripts do not have this sentence. (Luke 23:34 NIV)
Anger
Sure, you will get angry. Everybody does. But don't let your anger turn into sin. Release it to God before the day ends. (Ephesians 4:26 DCR)
A person's wisdom yields patience; it is to one's glory to overlook an offense. (Proverbs 19:11 NIV)
[Love] does not dishonor others, it is not self-seeking, it is not easily angered, it keeps no record of wrongs. (1 Corinthians 13:5 NIV)
My dear brothers and sisters, take note of this: Everyone should be quick to listen, slow to speak and slow to become angry, because human anger does not produce the righteousness that God desires. (James 1:19-20 NIV)
[Jesus said,] But I say, if you are even angry with someone, you are subject to judgment! If you call someone an idiot, you are in danger of being brought before the court. And if you curse someone, you are in danger of the fires of hell." (Matthew 5:22 NLT)
Sometimes God does NOT forgive
Sometimes prophets ask God NOT to forgive people. Examples: Isaiah 2:8-9, Jeremiah 18:23. And sometimes God chooses not to forgive. Examples: Hosea 1:6, Matthew 12:32
Yet God wants all to repent
The Lord is not slow in keeping his promise, as some understand slowness. Instead he is patient with you, not wanting anyone to perish, but everyone to come to repentance. (2 Peter 3:9 NIV)
And our enemy is not human
For our struggle is not against flesh and blood, but against the rulers, against the authorities, against the powers of this dark world and against the spiritual forces of evil in the heavenly realms. (Ephesians 6:12 NIV)
Blood atonement and forgiveness
This is my blood of the covenant, which is poured out for many for the forgiveness of sins. (Matthew 26:28 NIV)
In fact, the law requires that nearly everything be cleansed with blood, and without the shedding of blood there is no forgiveness. (Hebrews 9:22 NIV)