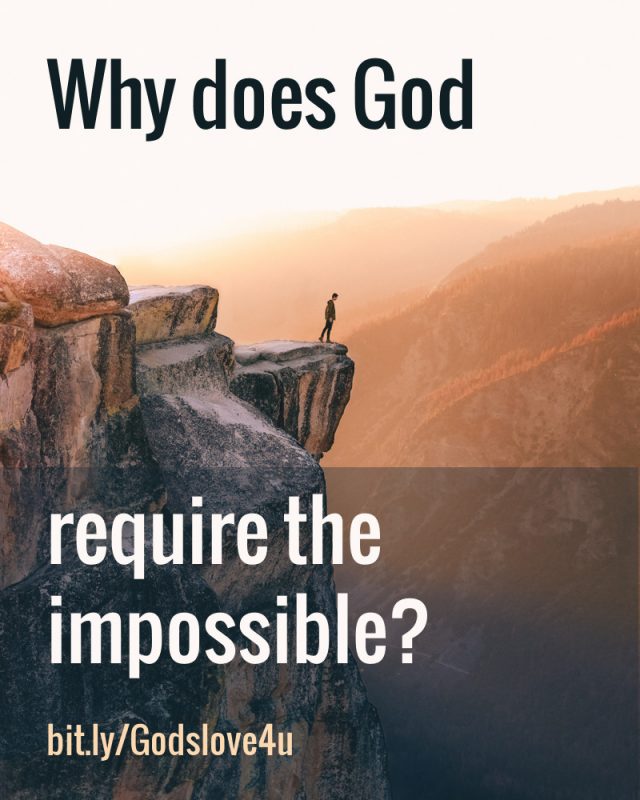 In case you haven't noticed, God regularly not only requests but also demands that we perform the impossible.
Here's a partial list:
We are to love our enemies. (Matthew 5:44) I can't do that. Can you do that?
We are to forgive those who wrong us. (Matthew 6:14-15)
We are prohibited from worrying, even when we don't know where our next meal is coming from. (Matthew 6:25+)
We are to get happy when we're persecuted. (Matthew 5:12)
We are to get happy when everything goes wrong. (James 1:2+, Romans 5:3+)
We are to repay evil with blessing. (1 Peter 3:9+)
We are not to fear the threats of evil people. (1 Peter 3:14)
Jesus tops it off by saying we are to be perfect even as God is perfect. (Matthew 5:48)
I can't do any of that. I'm gonna guess you can't either.
So what gives? Is God out of touch? Is Jesus delusional? I don't think so.
For several weeks I've been putting together a subscription package called Inner Wealth which I plan to launch Monday, December 3, 2018, and, in connection with that, I've been thinking through topics like this.
Why does God demand the impossible? I think it's an act of kindness on His part. He's hoping for a certain kind of response.
For many years my answer to God was, "I'm trying really hard, God. But I guess I'll try even harder."
Wrong answer. You don't accomplish the impossible by trying harder. In recent years I've learned that a different response is needed.
It all starts with honesty. When there's someone I can't love, I gotta be honest with myself and honest with God. I tell Him how that person makes me feel, and what goes on inside when I'm around that person. I tell Him not to justify myself, not to make excuses, but instead to acknowledge the limitations of me without God. Then I invite Him in to do what only He can do.
I'm thinking right now about a dramatic moment in my life when someone deeply embarrassed me in front of 300 people. I was mortified. But there, with 300 pairs of eyes looking at me, I looked heavenward in my helplessness. Then this amazing thing happened. God gave me a love and respect for this person that I didn't know I could have. My whole outlook changed. I saw her through God's eyes. Wow!
So, no, I can't do any of these things any more than you can—I can't do them any more than an infant can assemble a car engine.
And that's okay. Because Jesus stands ready to rewrite what's possible in our lives if only—in that moment—we'll invite Him in.
Be encouraged!
Dwight
Filed under: Uncategorized