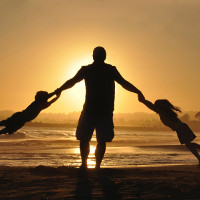 But the father wasn't listening. Luke 15:22 The Message
To me, this is one of the most moving moments in all of scripture. The prodigal son had ruined his life. He was returning home, a failure for all to see. When he met his father, he was begging not for his rights as son to be restored—he knew he could never dare ask for that—but rather that he might be taken on as a hired hand.
But the father wasn't listening.
Eugene Peterson in The Message, captures the spirit of this verse so well with this phrase: "But the father wasn't listening."
The Father had better plans, and, even today, He has better plans for you and for me. "Quick! Bring clean clothes. Bring the family ring. Identify this man as My son. Celebrate!"
This is one of those great paradoxes in life. When we begin to see how unworthy we are, the Lord begins to show us how much He treasures us. It is true that we don't deserve, but all the while we tell the Father that, He isn't listening. Instead, He is calling for celebration.
Dwight
PS. For decades, porn has been a major problem in the church. In recent years, we've finally started looking at this elephant in the room. But are accountability groups and promises the best way to battle porn? On Saturday, June 8, 2019 in Inner Wealth we're going to explore another way to get leverage to overcome this persistent addiction.
Filed under: Uncategorized