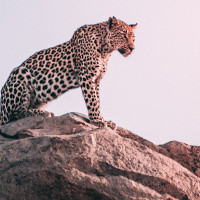 Now I'm a dad of adult children. And I hear stories of their lives, and sometimes I hear stories of how they've been bullied in the workplace.
I know I can't go to their place of employment and put those bullies in their place. (Although part of me would really enjoy doing it.) Instead, what I desire most for my children is for them to be cheerfully victorious.
What I want for my children is for them to be so filled with peace, and wisdom, and fun, that they take on these bullies as just another challenge they will dispatch with ease.
I want them to win.
Hear me. I'm not saying I want them to make someone else lose; I'm saying I want them to win. There's a difference. It's the internal mindset that says, "You don't have the power to get to me."
And here we have lesson #3: God wants us to win.
He coaches us. He celebrates us, and is working to make sure that each one of us is the best version of ourselves. He prepares a table before us in the presence of our enemies because He is that confident. In Himself. And in us.
God is coaching the winning team. And we—His kids—are on it.
I'm skipping over a lot—like how God brags about us (Job 1:8, 2:3), how He heals our hurts (2 Corinthians 1:3-4), and the list goes on. But these last few blog posts cover three things that stand out in my mind.
How about you? When you think of the father heart of God, what comes to your mind?
Dwight
PS. On May 18, the Inner Wealth topic will be neutralizing unpleasant emotions. We'll talk about where unpleasant emotions come from, two categories of unpleasant emotions, and step-by-step tactics you can take to return to peace and joy.
Filed under: Uncategorized