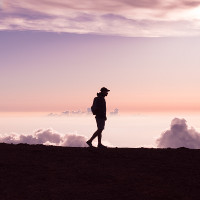 One advantage of having a weakness is this: It gives God an opportunity to show up.
Here's one of my weaknesses: All my life I've been afraid of dogs.
I tell you that because years ago my then 9-year-old daughter and I went on a missions trip to Mexico. During our trip, we spent a lot of time at a childcare center in a Mexican village. My daughter played with the other kids, and not knowing Spanish really didn't seem to be a barrier to friendship.
Compared to the people in Mexico, I felt like my prayers were anemic. At noon the children received what was probably their only meal of the day. It was some kind of pasty substance, like a cross between oatmeal and gruel. Most American kids would turn up their noses and refuse to eat it. But the Mexican children and childcare workers gathered around and simultaneously offered up fervent thanksgiving aloud to God for His provision of food. This heartfelt prayer of thanks went on for several minutes before the children sat down to their meal.
One day my daughter and I were at the childcare center alone with the children and the Spanish-speaking workers. The rest of the Americans were a mile or two away helping someone renovate their home.
Suddenly one of the workers came to me and motioned for me to follow her at once. She brought me into another room where one of the little boys was writhing in pain on the floor. Workers were gathered around him–tears in their eyes. It was clear that they wanted me to pray for him.
Wow. They were asking me to pray, when I felt like I needed to be taking prayer lessons from them.
I've prayed for many sick people over the years. Once in a great while, something supernatural seems to happen. Most of the time–nothing spectacular. This was no exception. I prayed. The boy cried.
Suddenly it became clear what I needed to do. I needed to walk a mile or two through the village and fetch the nurse who was a member of our group. I couldn't call; we didn't have a phone. I couldn't drive; we didn't have a vehicle. I needed to walk.
Only one problem: This village was crawling with dogs. If I got in trouble with one, I would have no way to call for help. I didn't even speak the language.
But here was a little boy in pain. God help me. I started walking.
It was eerie. The dirt road was completely empty. I didn't see a single dog. I didn't hear a single bark. I made it all the way without experiencing the thing I feared.
On the way back, the dogs were everywhere once again. But it was okay now. People were with me. They were comfortable with dogs, so I felt comfortable being with them.
We got back to the childcare center. We found some medication. We gave it to the boy, and prayed for him again. His pain receded, and he soon recovered.
So why didn't God answer my prayer to heal that boy? A friend of mine had the best answer: "Miracles show us God's heart." God chose to heal this little boy in such a way that also showed His love and power for me.
Dwight
PS. We talk about having a personal relationship with Jesus Christ. But what does that mean? How do you cultivate a meaningful relationship with God? The Inner Wealth resources for Saturday, 6/1/2019 will cover beginning a relationship with God, elements of a healthy relationship, sacred pathways, and how to hear the voice of God.
Filed under: Uncategorized