You'll find two things here:
Information on how to get to know God better.
Information on how to get your book into print.
Know God better
Would you like to hear God's voice? I can help you. Need God's help overcoming a life controlling issue? I can help you with that. Deeply hurt? Having trouble forgiving? Trying to untangle a relationship problem? Struggling with doubts or questions? Confused by the Bible? Want to know more about following Jesus? I can usually help with any of that.
Here's what I believe:
1. God likes you.
2. God hurts when you hurt.
3. Our world is messed up, but God is fixing it; we get to help.
4. Not only have all sinned, but all have been sinned against. Jesus Christ came to solve both problems.
5. You fix things by inviting Jesus in and allowing Him to be who He is.
Have a question? Just ask. Right here. Include your name and email if you want a response, otherwise anonymous is okay too.

Along this theme of explaining God, I draw really dorky cartoons like the one below. You can get them delivered to your inbox here. | More free stuff here. | Or join my Facebook group.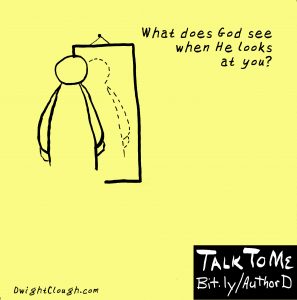 Most of what I do here is free or cheap. I just ask that you help me by taking my crazy survey and finding out what you can buy from me.
That keeps food on the table. Thanks.
Your book into print
I get your book from idea to reality. I do whatever you need—writing, rewriting, self-publishing, cover design, interior design, getting it on Amazon, e-book conversion. You want to work with me if you're trying to reach a Christian market, if you're not super confident in your writing skills, if you don't want to come across as a complete amateur, and/or if you need help navigating past the scams through the publishing process. Here's where you can learn more.
Thanks!
Dwight Clough